An Extraordinary Gardening Event
Sister Plant Favorites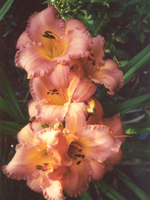 We'd love to share with you some of our favorite plants and why we treasure them.
Visit the Sister Plants Sale Information page for details about this year's sale.
Hellebores: Voted "2005 Plant of the Year"
The "Sisters" have been experimenting with hellebores for over twenty years and have come to covet this exceptional perennial which blooms for two months beginning in March. Our problem is when a hellebore comes into bloom, we simply cannot part with this treasure, because each plant blossoms in unique patterns and colors, all so deliciously beautiful. As the flower matures, it subtlety changes colors.
We purchase Helleborous orientalis hybrids (Lenten Rose) from prominent breeders. They are over-wintered in propagating beds until they flower, often for several years. Growing instructions are available.
Favorite Plant List
Here is a list of our favorite plants and some of their characteristics.
Note: Not all of the characteristics listed necessarily apply to all species within the genus, and not all species within the genus are New England Zone 6a hardy.
Perennials
Allium


Easy care ~ showy ~ drought resistant ~ varied flowering times ~ nice range of colors ~ cut flower ~ dries well ~ spectacular seed heads ~ some resemble fireworks

Aster


Simply because they bloom profusely in brilliant colors in late fall when all else has expired

Campanula (bellflower)


Charming dangling bells ~ rare true blue palette (plus other colors) ~ all heights from neat low border to tall and stately ~ long-lived ~ rebloom

Echinacea (coneflower)


Bright rose-pink, daisy-like flowers from June to October ~ cut flower ~ drought tolerant ~ long-lived ~ seed heads attract finches

Euphorbia (spurge)


Marvelous foliage ~ showy chartreuse to sulphur yellow flower bracts ~ rugged ~ large distinct species

Filipendula (meadowsweet)


Palmate or ferny delicate foliage ~ foamy soft flower heads ~ adaptability to difficult growing conditions ~ easy care

Gaura (wandflower)


A wispy look ~ long arching wands tipped with delicate flowers ~ dances and whirls in a breeze ~ never stops blooming ~ low basal foliage ~ can be inter-planted

Helleborus (hellebore)


The very first bloomers in late winter and early spring ~ long-lasting from March to May ~ gorgeous, patterned, saucer-shaped blossoms ~ stately/ glossy evergreen palmate leaves ~ shade lovers ~ perfect under deciduous trees ~ and to top it all off... H. x hybridus was voted the 2005 Perennial of the Year!

Hemerocallis (daylily)


Easy care ~ exquisite beauty ~ abundant flowering ~ show stoppers ~ sun lovers ~ very hardy ~ early to late plus re-bloomers ~ over 25,000 varieties

Heuchera, Tiarella, Heucherella (coral bells/ foam flower)


Low mounds of striking foliage ~ leaves can be spectacular, deep cut, ruffled, marbled, or veined ~ excellent front border plant ~ shade tolerant ~ colors range from bronze, burgundy, chocolate, black, amber, gold, silver, green, white

Hibiscus


Enormous (8-12") blossoms ~ brilliant colors ~ exotic blooms ~ late summer interest when little is in bloom ~ thrive in heat

Iris


Wide range of varieties and bloom times ~ stately foliage ~ stunning color combinations ~ showy ~ long lived ~ easy to grow

Paoenia (peony)


Backbone of borders ~ foliage makes a statement ~ outstanding blossoms and varieties ~ fragrant ~ cut flower ~ live forever ~ easy to grow

Penstemon (beardtongue)


Wide, delightful varieties and bloom times ~ rainbow colors ~ trumpet flowers that attract hummingbirds and butterflies ~ semi-evergreen

Phlox


Exceptionally colorful ~ large clusters of flowers ~ hardy, long lived ~ huge species with spring to fall bloomers ~ mildew resistant varieties

Pulmonaria (lungwort)


Wonderfully spotted & variegated foliage ~ very early bright delectable flowers ~ slug resistant ~ dry shade survivor
Trees and Shrubs
Calicarpa (beautyberry)


Profuse, late summer to fall ultra-violet surreal colored berries ~ nice addition to holiday arrangements

Cornus kousa (Chinese or summer dogwood)


Masses of 3" showy cream or pink flowers in June ~ quick growth habit ~ attractive red fruit that is not messy ~ exfoliating bark ~ Cary Award Winner

Hydrangea


Fantastic flower heads ~ excellent dried flowers ~ profuse bloomer
(Note:Not all H. macrophylla & H. serrata are Zone 6A cold hardy or reliable bloomers whereas H. paniculata & H. arborescens are.)

Prunus subhirtella 'Hally Jolivette'


Beautiful masses of pinkish-white blossoms in early spring ~ longest lasting bloom of all flowering prunus varieties ~ can be trained as tree or shrub

Spiraea


Great in perennial borders ~ adapts anywhere ~ lovely soft flowers ~ many shapes and sizes ~ foliage variations of green, gold, flame, pink, white

Viburnum


Mega varieties ~ easy care ~ beautiful flowers ~ fantastic leaves, some evergreen, some fragrant ~ berries that attract birds
Others
Daffodils & Narcissus (bulb)


Early bloomers that announce and brighten spring ~ good cut flower ~ heady fragrance ~ multiply every year ~ can be interplatned because foliage disappears ~ deer resistant

Grasses (clumping varieties)


Foliage variations ~ arching & great structure ~ dramatic fall glory ~ airy plumes lasting through winter ~ shimmer in a breeze ~ range 2" to 15'

Myosotis (forget-me-not)


Who can resist a field of sky blue in early spring with this self-seeding biennial?