An Extraordinary Gardening Event
Sister Plants Welcome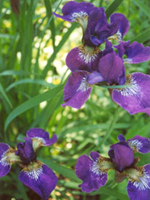 "More than anything I must have flowers, always, always."

--Claude Monet
(French Painter, 1840-1926)
Each spring, rain or shine, Sister Plants holds a perennial plant sale beginning on the Saturday after Mother's Day, in Reading, Massachusetts.
May 20 Saturday: 8:00am - 3:00pm
May 21 Sunday: 9:00 - 2:00
May 22 Monday - Daylight Hours - Self Serve (full service)
Sale Highlights
Our three-day sale starts each year on the Saturday after Mother's Day and is held rain or shine. Come share the fun:
Visit the Sister Plants Sale Information page for details about this year's sale.
Sister Plants Spring Perennial Plant Sale
"After 25 years of selling plants in my backyard I am transitioning the tradition of the Sister Plants sale to Bob & Jackie King at 243 Haverhill Street in Reading. I am hoping you will continue to join us in this fun annual event! I'll be there.

As always you are welcome to stroll through my Bond Street garden any time, any season. Although the weeds have won, the garden is still my never-ending labor of love, my stress-reliever, my serenity, my constant awareness of miracles, my gift to others to enjoy."


Sincerely,
Terry Hale
Sister Plants
Sister Plants growers pour intensive, loving care into this special perennial sale by propagating perennials, trees, shrubs, and herbs all year long that flourish in local New England growing conditions. The sale brings together the talents of an avid group of local gardeners, and over 90% of our plants are grown in our own back yards.
We thoroughly enjoy meeting other home gardeners and are enthusiastic about sharing our love and knowledge of plants with you. Our reward for the many long hours and hard work that goes into preparing for the sale is the lasting relationships we have built over the years and the fun we have.
Make-A-Wish Foundation
Sister Plants donates to the local Make-A-Wish Foundation. Make-A-Wish grants wishes to children with life-threatening illnesses.
A yearly contribution is made in memory of Chris Hollis, a former neighbor who died at age 19. Chris had his wish to visit Disneyland granted through the Foundation.