An Extraordinary Gardening Event
About Sister Plants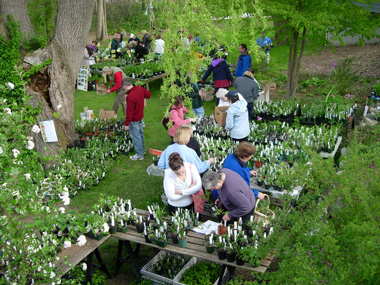 Sister Plants is a collaborative of participating gardeners whose grand passion is growing perennials.
The sale has grown in less than ten years from a few hundred plants sold by two sisters as a lark at a garage sale, to an extraordinary gardening event with thousands of plants grown by a collaborative of zealous local gardeners. Because our gardens are as varied as our personalities, each year we offer a diverse range of plants consisting of over 400 varieties..
Sister Plants Growers
Terry Hale ~ Sister Plants, Reading
A plantaholic and collector of uncommon plant species
Organic gardening for 40+ years
Contact: sisterplants@att.net
Certified landscape design consultant with expertise in visual design and creative solutions
Specializes in outstanding plant knowledge
Has a database of 1500 varieties of perennials, herbs, shrubs and trees, including as many failures as successes
Presents educational gardening programs
International garden traveler
Member of Lexington Field and Garden Club, Crystal Garden Club, GCFM Gardening Consultants Council & Landscape Design Council
Pauline Bergstrom ~ Sister Plants, Saugus
An enthusiastic plant collector with 500+ varieties of perennials
Gardening for 35+ years
Specializing in hellebores, flowering shrubs, English borders, and shade gardening
Co-creator of the Sister Plants spring perennial sale
From a lineage of gardeners
Member of Lexington Field and Garden Club & Crystal Garden Club
Frances Gillespie ~ Lexington
A gardener who must have "one of everything"
Gardening for 20+ years
Specializes in winter seed propagation
Designed and installed a butterfly garden and bird habitat at Estabrook School in Lexington
Member of Lexington Field and Garden Club, Massachusetts Horticultural Society, and New England Wildflower Society
Plant Sale Coordinator for the Middlesex Conservation District
Art Scarpa ~ Reading
A plant fanatic who loves container gardening
Gardening for 50+ years
Contact: artscarpa@comcast.net
Loves miniature plants, especially miniature hostas, semps, sedums and rock garden perennials, hardy cacti and conifers
Grows 1,000-plus succulents and subtropical plants in his greenhouse
Can talk non-stop about succulents, palms, ferns, bromeliads, camellias clivias, figs, and more
Trying to discover the fine line between avid plant collecting and hoarding
Maria McNall ~ North Reading
A life long plant lover and collector
A microbiologist by profession, but plant enthusiast always
Loved plants since little girl from father's and grandfather's gardens
Once my dad gave me my own garden at 11, my passion for gardening evolved
Feel privileged to be among many talented horticulturists and am learning all the time.
Brad Stayton ~ Sudbury
Just a schmuck who loves to get out and get dirty in the garden
Specialize in raising cultivars which are very appetizing to ground hogs and rabbits!
Eric Guire ~ Needham / Barnstable
An avid arborist who finds it therapeutic to dig in the dirt
Gardening for 20+ years
Contact: guiresgreenthumb@gmail.com
Specializes in growing trees and shrubs
Annamaria Paone ~ North Reading
Always looking for rare and uncommon plants
40+ years gardening
Contact: amariepaone64@gmail.com
500+ species of plants (starting to lose the battle with pesky chipmunks)
Specializes in perennials, especially woodland species and daylily cultivars
Most of my garden was started by winter seed sowing
Once knew all the Latin names of plants from A-Z