An Extraordinary Gardening Event
Plant Reference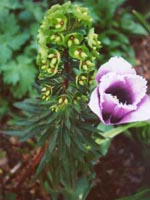 Part of the fun for us is sharing our love and knowledge of plants with you.
Plant Selection
The collectors among us order from catalogs from all over the USA and travel to distant places searching for varieties that are difficult to find locally. If a plant passes the survival test in our gardens and is relatively easy to maintain, when it matures, we are able to propagate it for sale. A small percentage of our plants have been ordered through wholesalers to expand the varieties we offer.
Sometimes it will be years before a particular plant will be ready for dividing again, so we cannot guarantee future availability.
Be sure to see our list of "Sister Plant Favorites"
Plant Care
Because our plants haven't been over-fertilized or grown extended seasons in pots, they are not root-bound and normally transplant very well. If you cannot place an adoptee immediately in its new home, keep it moist and shaded.
Note the growing conditions on the pot label. It is extremely important to keep anything that is newly planted well watered until established. Trees and shrubs especially need weekly soakings until the ground freezes.
We strongly suggest cataloging your perennial purchases, either on the computer or on index cards. This will be invaluable as your plant addiction grows.
Garden Consultations
Schedule a gardening consultation with Terry Hale. Terry will visit your property for 2½ to 3 hours, evaluate your site and plantings, offer concrete suggestions geared to your personal aspirations, and answer your specific gardening questions.
Advice is offered on garden design, problem areas, pruning, identification, plant selection, resources and implementation.
The cost is $75 for properties within a 10-mile radius of Reading, Massachusetts, and $85 beyond. Consider an artfully presented gift certificate for the hands-on gardener on your gift list or for a new home owner.
Contact Sister Plants about a gardening consultation for a date after the sale.
Gardening Links
Want to research more information about specific plants? Visit these links we think you might enjoy: