An Extraordinary Gardening Event
Sale Information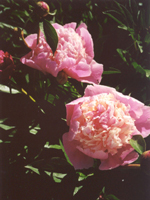 42 Bond Street
Reading, Massachusetts
2019 Sale Dates
Please join us for the 2019 Perennial Spring Plant Sale, rain or shine:
Full-Serve Sale
May 18 & 19 (8:00-3:00)
Saturday and Sunday
Expert Sister Plant growers are on hand to answer your gardening questions and to personally assist you. Look for our purple visors! We love sharing our plants and gardening expertise with you.
The crowd comes early on Saturday to get the best selection. Although it may get a little hectic at times, the camaraderie and festivity during the sale is lots of fun.
The sale is run yearly in conjunction with the Reading Garden Club Sale. The annual Reading Garden Club Sale is one mile away on the Town Common.
Self-Serve Sale
May 20 (Daylight Hours)
Monday
The sale continues as self-serve, with "How-To" instructions posted.
Note: Many of the plants remaining at the end of the sale are donated to local park, public space, island beautification projects, or other charitable programs.
2019 Plants for Sale
Click to download the 2019 Plant List as an Excel file.
Reading Garden Club Plant Sale
On Saturday, May 18, 2019, from 9:00-1:00, the Reading Garden Club will hold its annual Geraniums and More plant sale on the Town Common, just a mile away. They offer many items which we do not sell, such as annuals, hanging baskets, geraniums, garden accessories, baked goods, and more.
Pricing
We grow the majority of our plants ourselves, so we can sell them to you at reasonable prices.
$3 to $4 for starter-sized plants.
$5 and up for shrubs, trees, large, rare, or prized varieties.
Our prices reflect the maturity, ease of propagation, or rarity of a plant. Our aim is to sell healthy, home-grown plants at reasonable prices.
Sale Notes
Here are a few more notes related to the sale:
Bringing a carry-away box or tray for your purchases helps us.
There will be an unattended plant parking lot.
When selecting plant material, bigger and blooming is not necessarily better.
Occasionally, a plant may be mislabeled. If this happens, please forgive us and feel free to ask for a replacement.